HONOREES
A CHANCE TO CELEBRATE
EVERY YEAR WE HAVE WONDERFUL INDIVIDUALS WHO WE HONOR FOR THEIR IMPORTANT CONTRIBUTIONS TO CLASSIC CINEMA. IT IS OUR WAY TO MAKE SURE WE ALWAYS REMEMBER THOSE WHO PAVED THE WAY AND CONTINUE TO MAKE CINEMA SO DEAR TO OUR HEARTS.
Since the inception of Cinecon the festival has taken pride in honoring those artists (in front of and behind the camera) who have contributed their great talents to the films of the golden age. Previously honored Cinecon guests include Patricia Neal, Celeste Holm, Diane Baker, Glynis Johns, Jackie Cooper, Mickey Rooney, Rhonda Fleming, Ray Harryhausen, Luise Rainer, Jane Russell and Roger Corman. 
Through our forty-seven year history such Hollywood legends as Colleen Moore, Myrna Loy, Hal Roach, Burgess Meredith, Alice Faye, Jean Simmons, Fayard Nicholas, Douglas Fairbanks Jr., Eleanor Powell, Ruby Keeler and directors Robert Wise, Delbert Mann, Ronald Neame and Vincent Sherman have also been Cinecon honorees. For Cinecon 59 we present The Cinecon Legacy Award to Nancy Olson, Peggy Webber and Carol Lawrence. In addition we are very excited to have Cora Sue Collins join us as a Special Guest.  
CAROL LAWRENCE
TONY AWARD NOMINATED ACTRESS OF STAGE, SCREEN AND TELEVISION
CINECON LEGACY AWARD RECIPIENT FOR HER VAST CONTRIBUTIONS TO THE WORLD OF ENTERTAINMENT
Carol Lawrence defines the term "Triple Crown". An actress, singer and dancer of the first magnitude, she created the role of "Maria" in the Leonard Bernstein/Jerome Robbins Broadway classic, West Side Story. She went on to star in numerous other Broadway productions, including Saratoga, Subways Are for Sleeping, Nightlife, I Do, I Do, and Kiss of The Spiderwoman. She has also starred in national tours of Funny Girl, The Unsinkable Molly Brown, The Sound of Music, Sweet Charity, No, No, Nanette, Woman of The Year and Sugar Babies. It is easy to see why this Italian girl from Melrose Park, Illinois, is well deserving of her star on the prestigious Hollywood Walk of Fame; the first recipient ever in the category of "Live Theatre".
In 1962 she made her film debut in the screen adaptation of Arthur Miller's searing play, A View from The Bridge. Cinecon is proud to present this rarely seen treasure as the centerpiece of our tribute to Ms. Lawrence. But her first love has always been the stage. Carol received rave revues in Los Angeles productions of Do I Hear A Waltz?, Follies, and Amy's View, for which she received The Los Angeles Drama Critics Award. She also broke box-office records for her stellar performance in the title role of Mame. Carol headlined both the Fabulous Palm Springs Follies and the newly created Florida Follies.
As a regular on ABC's General Hospital she played loving Italian matriarch "Angela Eckart" and on Touched by an Angel she gave a heartwarming portrayal of a woman facing death. Carol has also played leading roles on such shows as The Commish and a dramatic diva on Murder, She Wrote. Other TV appearances include musical variety shows, guest roles on Sex and the City, Lois & Clark: The New Adventures of Superman, Murder One, Matt Houston, Saved By The Bell, Hotel, The Love Boat and Simon & Simon. She appeared as a recurring character on Flipper, shot in Australia. For three years Carol headlined her own biweekly TV magazine/talk show, The Carol Lawrence Show.
Through hosting five shows on the popular series Chef du Jour for the Food Network, Carol was able to share the secret recipes for her cookbook, "I Remember Pasta", a Harvest House publication. In 1998 she set a new record for cookbook sales on the Home Shopping Network. Hand in hand with her cookbook is her interest in fitness, nutrition, health and exercise. Her aerobic/ dancercise video, Broadway Body Workout is set to Broadway music and reflects her love of dance and fitness. Her autobiography, "Carol Lawrence, The Backstage Story", was released by McGraw-Hill in 1990.
Carol has received both Tony and Grammy Award nominations, as well as numerous humanitarian awards including City of Hope's "Woman of the Year" and "The Spirit of Life Award". Her award-winning television commercials for General Foods' International Coffees are classic examples that the name Carol Lawrence is synonymous with good taste. Friend and publicist Alan Eichler will be presenting her with the Cinecon Legacy Award.
PEGGY WEBBER
RECEIVING THE CINECON LEGACY AWARD AT THIS YEAR'S FESTIVAL
MULTI-TALENTED PERFORMER OF FILM, TELEVISION AND RADIO
A native of Texas, Peggy Webber began her show business career at age 2 1/2 singing and dancing during the intermissions at a local movie theater (she was once called upon to perform 21 encores). By age 11 she was performing children's radio plays on Saturdays for San Antonio's station WOAI.  At age 14, she had her own radio show on Sundays on Tucson's radio station KVOA.  Her family moved to Los Angeles where she enrolled in USC's School of Speech. Its co-director William DeMille (brother of Cecil B., father of Agnes) urged her to continue her studies in theater, but she interrupted her studies to visit talent agencies looking for work in radio. Within a short time, she was performing in 21 shows a week. One of her early radio gigs was a last-minute live radio broadcast opposite Orson Welles.  Impressed with her skills, Welles selected her to portray Lady Macduff in his Republic Pictures version of Macbeth (1948).
During her long and storied career, Peggy has appeared in over 8000 network radio broadcasts, working with all the major directors and performers of radio's golden age. She also performed on radio with many stage and screen actors including Lionel Barrymore, Errol Flynn, Peter Lorre, Lee Marvin, and Vincent Price. She worked with Basil Rathbone and Nigel Bruce on radio's "Sherlock Holmes." Known for her wide range of voice, she is also well-remembered for her recurring role on radio's Dragnet, playing Joe Friday's elderly mother (although she was only 24 at the time).
Although Peggy is perhaps best known for her legendary radio career, she has appeared in over 100 stage plays and has served as the artistic director of seven theaters. She is also one of the pioneers of early television.  In 1948 she wrote. directed and performed in a live weekly television broadcast called "Treasures of Literature." It received an award from the Television Academy of Arts and Sciences for "Outstanding Production of a Live Drama Series", a precursor to the Emmy award. Peggy has been featured in over 300 television programs including Gunsmoke, Wagon Train, I Spy, Marcus Welby M.D., Night Gallery, Adam 12, and The Waltons, to name a few. Her movie career spans four decades and includes Orson Welles's MacBeth, Alfred Hitchcock's The Wrong Man as well and our featured film, Submarine Command.
In 1984, after forty years as a radio, television, film and theatre actress, director-producer, Peggy founded the live radio repertory company, California Artists Radio Theater or CART. CART productions have featured Peggy's adaptations of classic tales from Shakespeare, Lewis Carroll, George Bernard Shaw, and Oscar Wilde, as well as contemporary classics from Norman Corwin and Ray Bradbury. Peggy's casts have featured a veritable "who's who" of the notable performers of radio's golden age and regular CART cast members have included David Warner, Norman Lloyd, Ed Asner, Samantha Eggar, Roddy McDowall, John Astin, Beverly Garland, Renee Auberjonois, Linda Henning, Marvin Kaplin, Kathleen Freeman, Michael York, William Windom, Jane Withers, William Shatner and JoAnn Worley to name a few. These broadcasts, produced, adapted and directed by Peggy, were performed live before a studio audience for broadcast on local stations, the NPR network, and satellite radio, and they have earned thirty national and international awards. For her accomplishments, Peggy has been inducted into both the Pacific Pioneer Broadcasters Diamond Circle and the Network Broadcasters Hall of Fame. The Cinecon Legacy Award will be presented by the longtime musical director of CART and Peggy's dear friend, Jay. C. Munns.
NANCY OLSON
RECEIVING THE CINECON LEGACY AWARD AT THIS YEAR'S FESTIVAL
LEGENDARY OSCAR-NOMINATED STAR OF SUNSET BOULEVARD, AUTHOR AND PHILANTHROPIST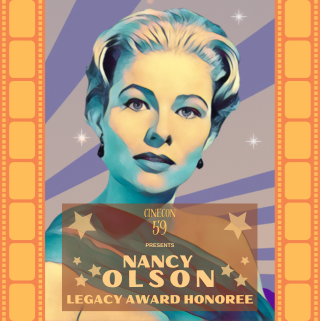 From her childhood in the American Midwest to her iconic performance in Sunset Boulevard, actress Nancy Olson Livingston has lived abundantly. "If luck is a lady, like the song says, that lady must be Nancy Olson Livingston—an Academy Award–nominated actress and muse to her first husband, lyricist Alan Jay Lerner (My Fair Lady), and to the Capitol Record impresario Alan Livingston. Her life has been a banquet, an illuminating record of all the high-rolling stars of music, film, theatre, and politics who found a seat at her glamorous table.
She made her film debut in 1949 opposite Randolph Scott in Canadian Pacific. As a student at UCLA, she was signed by Paramount Pictures and played in a series of roles including Mr. Music with Bing Crosby. She was successfully paired with William Holden in Union Station, Force of Arms as well as our featured film Submarine Command. But perhaps her most beloved role was her turn as Betty Schaefer, Holden's love interest in Sunset Boulevard, for which she received an Academy Award nomination for Best Supporting Actress. Throughout the 1950s she showed her durability as a performer in such films as Battle Cry, So Big, The Boy from Oklahoma and Big Jim McClain with John Wayne.
In her early 20's Livingston exchanged her title of leading lady for that of wife and muse to composer Alan J. Lerner, with whom she has two daughters. But when that marriage dissolved, Livingston returned to the screen co-starring in films such Disney classics as Pollyanna, The Absent-Minded Professor and Son of Flubber. She continued to land roles in film and television in the 1970's and 80s including appearances in Snowball Express, Airport '75 and Making Love on the big screen as well as Alfred Hitchcock Presents, Gunsmoke and Barnaby Jones on the small screen. 
After a stint on Broadway, she married Alan Livingston, head of Columbia Records, and together they hosted the likes of up-and-coming talents such as The Beatles and helped raise the cultural bar in Los Angeles. With her husband by her side, Livingston later traded her work on Hollywood's center stage for a life behind the scenes. She contributes her time and resources to organizations such as The Blue Ribbon where she works as a patron for children and women in the realm of art education. We are honored to welcome her brother David who will be with us to present her with the Cinecon Legacy Award.
After the presentation she will be signing her new book, A Front Row Seat which deftly interweaves Livingston's life with her observations of the artists, celebrities, and luminaries with whom she came in contact—a paean to the twentieth century and a treasure for readers enamored with a bygone era.
CORA SUE COLLINS
WE ARE PLEASED TO ANNOUNCE THAT PAST CINECON LEGACY AWARD RECIPIENT CORA SUE COLLINS WILL BE JOINING US FOR A BRIEF Q&A BEFORE OUR SCREENING OF A NEW RESTORATION OF THE 1934 VERSION OF THE SCARLET LETTER.